hHL Lisbon / Gorgonization Works at German Dry Docks, Brenenhaven, Germany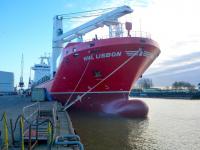 Gorgonization of the HHL Lisbon at German Dry Docks.
Vessel arrived from Santos, Brazil in ballast and berthed on the 8th November 2013 pm at GDD pier middle berth.
On the 14th November noon she proceeded to dry dock no.2 and was out of the water at abt 1900hrs.
While alongside, testing of the accommodation and MOT ladders, the filling of the 40ft container and its loading in cargo hold no. 1 took place and
the preparation of the ship for the OVID survey arranged for the 18th November, took place.

None of the HHL`s spec works to the s/y other than the above has started.
We attribute the above to the fact that the scope of work has reduced dramatically from what was initially requested by HHL to what finally ordered. The yard explained that initially GDD had arranged for a workforce able to carry out in the time quoted all works as per initial specs.
That workforce had now be re-directed elsewhere and new arrangements were made for the HHL Lisbon equal to the new job scope.
During the ship`s stay at the GDD the below surveyors/reps were on board:
- Mr. Russell Simpson representing DBS/Project
- Mr. Henning Jacobsen HHL assistant tech. superintended
- Mrs Alexandra Leuschner HHL attended on the 17th November in order to train the crew prior to the OVID survey.
- Mr. Ibrahim Saka, Mariner rep in order to supervise rudder repairs.
- Mr. Simeon Hirtz, GL hull surveyor
- Mr. Karsten Koenig, GL machinery surveyor
- Mr. David Porath, GDD project manager
- Mr. Simon Wittek, GDD production engineer replaced towards the end by Neils laporte.
- Mr. Maurice Zwock, Intern. paint rep.